ABOUT "ANNI"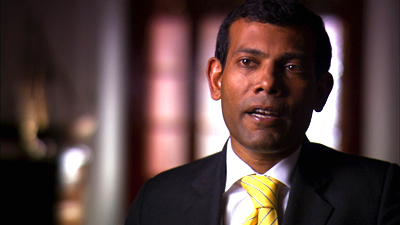 Born in 1967 to a merchant family in the capital island of Malé. Attended Dauntsey's School, and Liverpool John Moore's University in the UK.
Arrested by Gayoom regime for publishing the political magazine, Sangu.
Arrested and kept in solitary confinement for 18 mths. His then girlfriend, Laila Ali, was also arrested and sentenced to 6 mths. of house arrest.
Named a Prisoner of Conscience by Amnesty International.
Held incommunicado for 14 mths. on the prison island of Gamaadhoo.
Arrested again for political writings and detained for 3 mths., followed by house arrest.
Nasheed and Laila's first daughter, Meera, is born.
Wins election to the Maldivian Parliament, the Majlis.
Nasheed is arrested on false charges and loses his seat in Parliament. While jailed in solitary confinement, Nasheed and Laila's second daughter, Zaya, is born. Banished to Angolhitheem Island (pop. 30) for 6 mths., followed by 3 mths. of house arrest.
Eevan Naseem is beaten to death during torture at the Maafushi prison. The incident sparks riots at the prison and in Malé. Nasheed leaves the country. An exile in Sri Lanka, Nasheed co-founds the Maldivian Democratic Party (MDP), and party members lobby governments around the world for recognition.
Granted political asylum in the UK.
Returns to the Maldives to resume political activity at home, participating in a repeating cycle of peaceful demonstrations and arrests.
Domestic and international pressure forces Maumoon Abdul Gayoom, the
Maldives 30-year ruler, to hold the country's first multi-party presidential elections. Nasheed wins the election and is sworn in as president on November 11, 2008.
MARCH - Pledges to make the Maldives the first country to go carbon neutral within a decade by moving to renewable energy sources.
SEPTEMBER - Time magazine names Nasheed as one of its 2009 Heroes of the Environment.
SEPTEMBER - Nasheed addresses world leaders at the UN Secretary General's Climate Summit in New York.
OCTOBER - To dramatize the the threat that climate change poses to the Maldives, Nasheed dons SCUBA equipment and presides over the world's first underwater cabinet meeting.
DECEMBER - Nasheed attends the Copenhagen Climate Conference.
Nasheed awarded the Champions of the Earth Award, the United Nation's
most prestigious environmental prize.